I was having trouble with my trusty Harbor Freight 4x6 bandsaw I had bought over 10 years ago. Turns out it was nothing serious, just the guide bearings were adjusted too tight. But it got me looking at what was available and I spotted this saw on Craig's list.
Of course it wasn't that pretty. Below is the actual photo from the ad.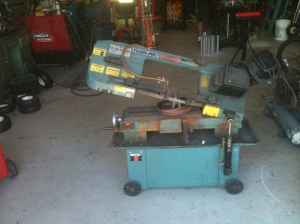 Up to now I have only run the saw for a minute or two at a time. It needs blade guide bearings but the motor and gearbox seem to be fine. It shifts through the 3 speeds without any problem.
Here I have an intake manifold from a small block Chevy ready to cut. the manifold is 10 1/2" wide. Now I will be able to slice it up for the furnace with no problem! My crucible is only 5" diameter.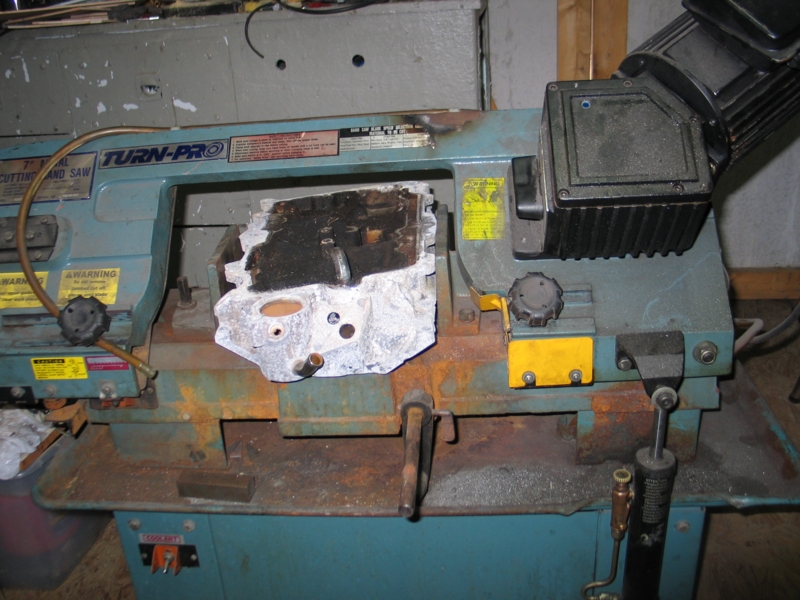 The saw needs a good cleaning. It looks like they were using plain water for the coolant.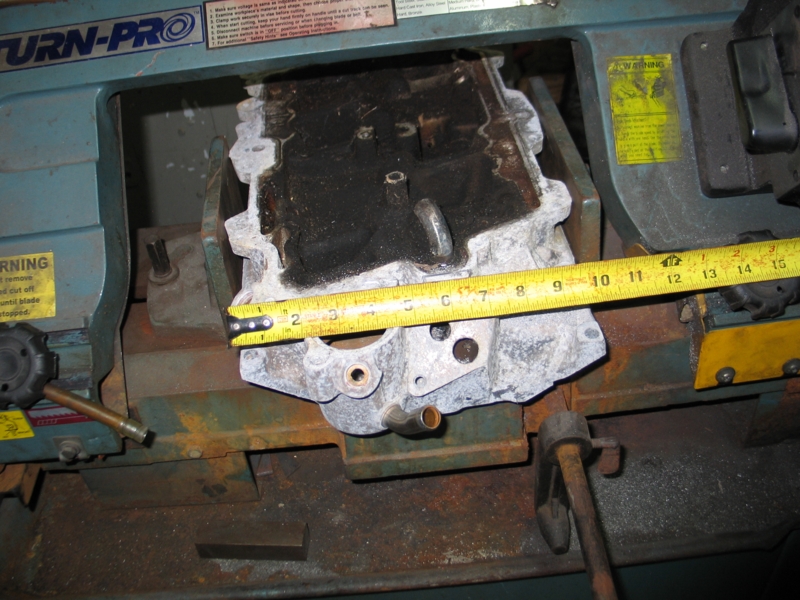 The saw is well used and needs some attention.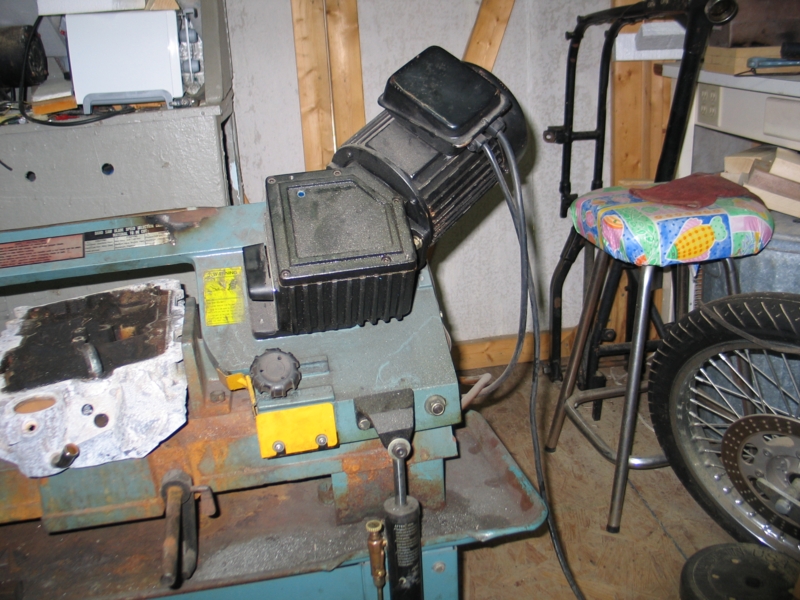 Above, you can see the hydraulic down feed control. There is a 1/4 turn valve to stop it and a rotary valve for feed rate. It regulates the speed of the down stroke only. There is some sort of check valve to allow you to raise the saw without fiddling with anything.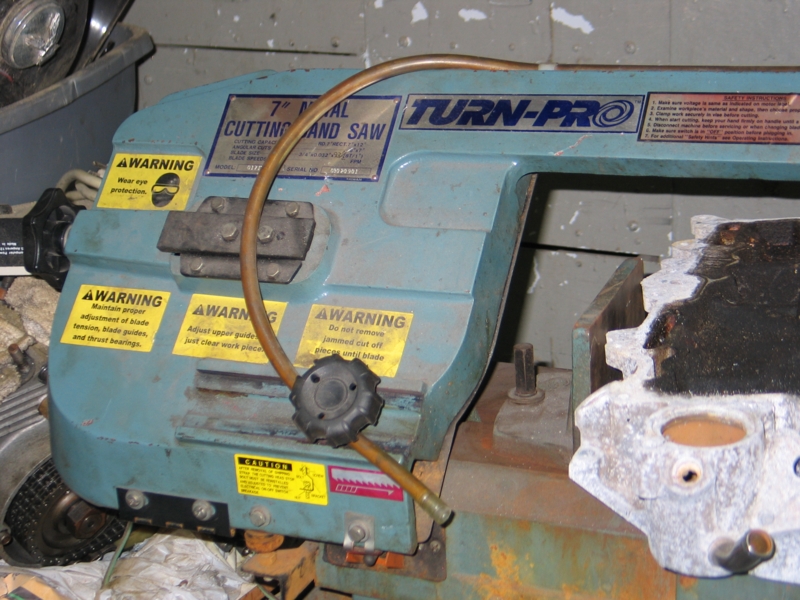 This shows the coolant hose hanging free. I have the blade guides removed to replace the bearings.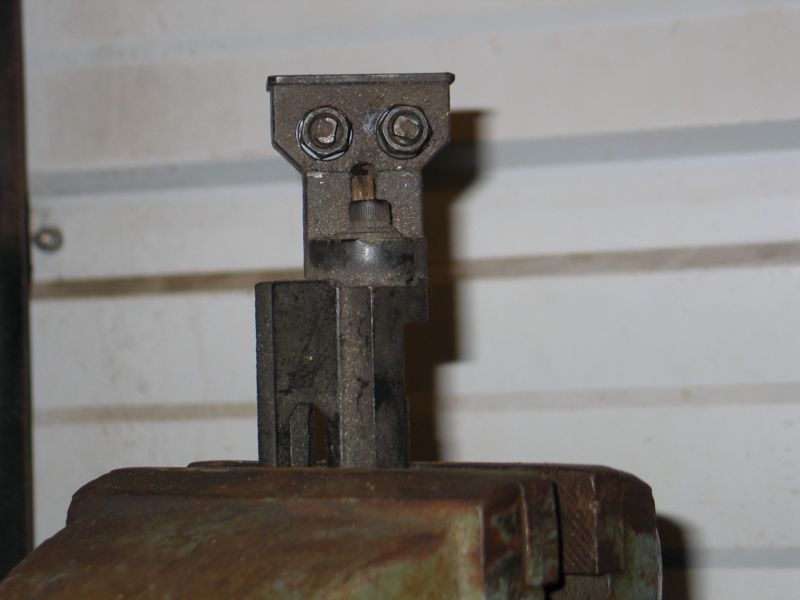 Above is the lower blade guide before disassembly. The bolts have flats for easy adjustment.
And the other side after the new side bearings were installed.
An angled view showing the double bearing stacks. These bearings are standard skate bearings as used in inline skates. 7mm wide, 22mm O. D. and 8mm bore. I lucked out here, because I have a box full of new bearings this size. I used these in my CNC router build because they are cheap and plentiful.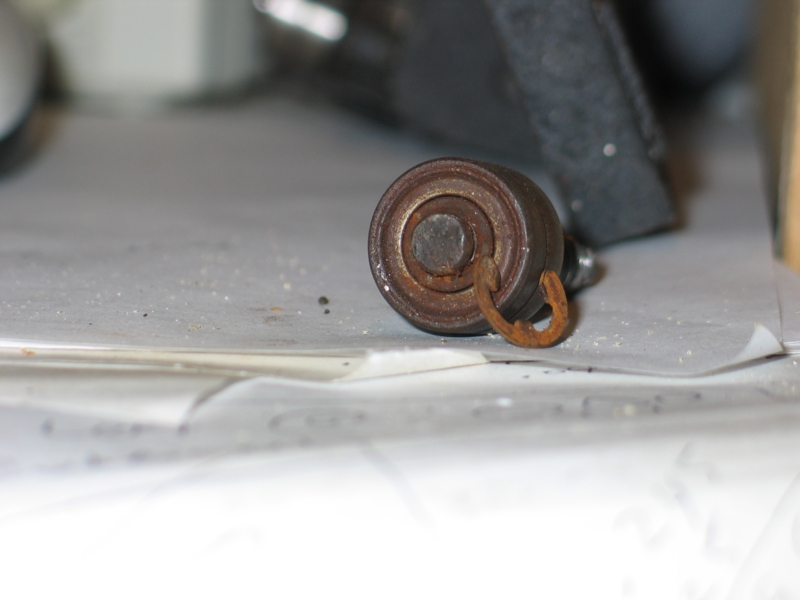 The old bearings about to be forcibly removed. The vise is loose and the punch is flat nosed. A pin punch would have been better than this tapered one.
The old bearing is wedged on the taper with the job only partially done.
That's what hammers are for!
Old and new.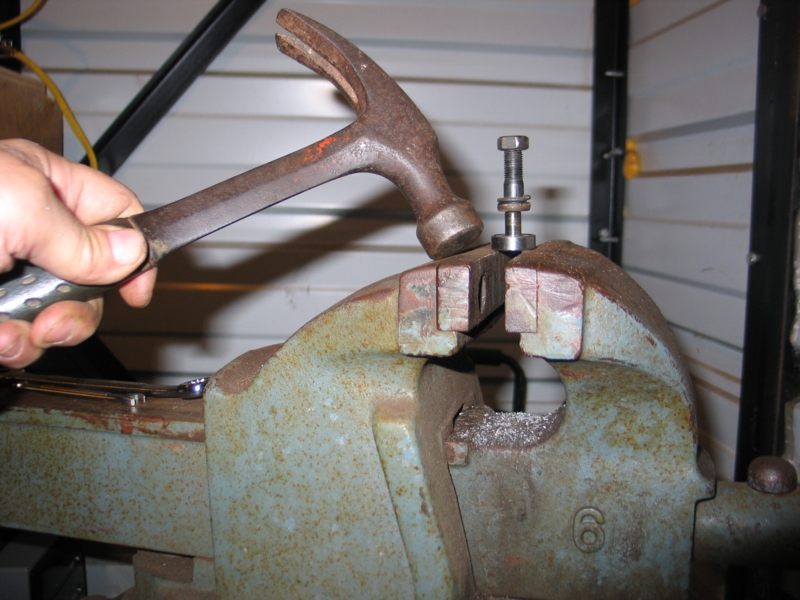 I put the nut on until the top is flush and gently tapped it into the new bearing...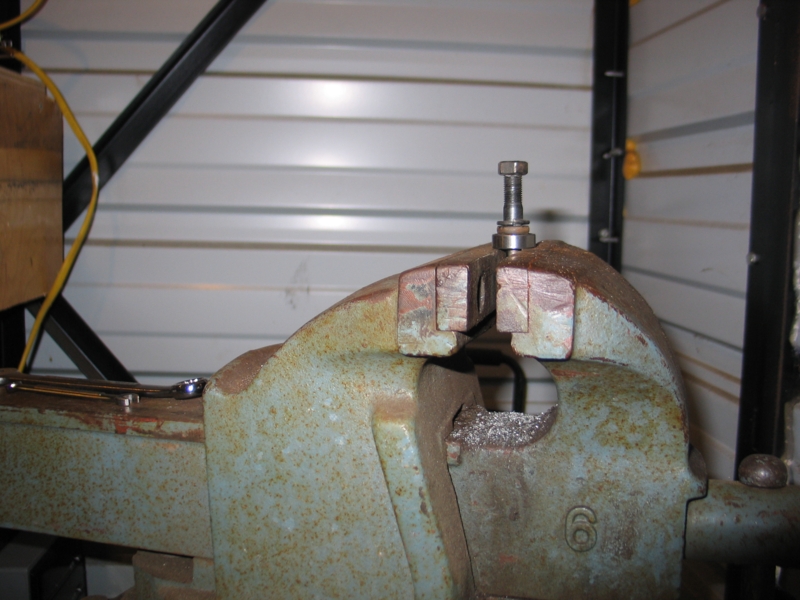 ...until it seated.
And added the second bearing the same way.
Eclip replaced in the groove...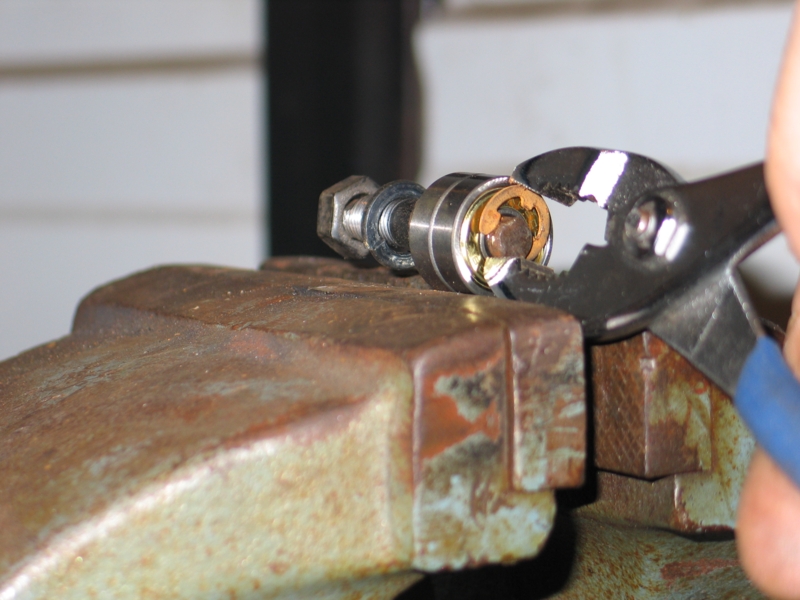 ...and snapped into place.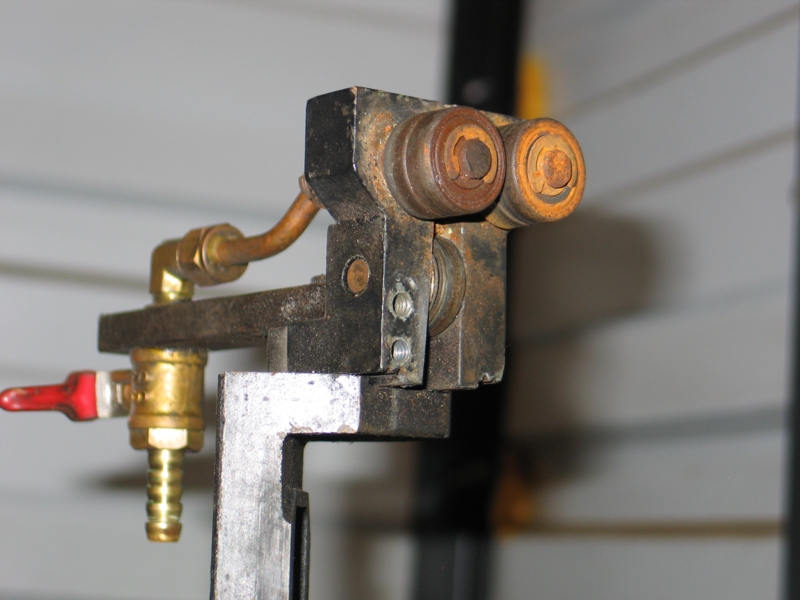 The upper guide before.
The back bearing shaft was driven with the punch as far as possible and finished with an old bolt for a punch.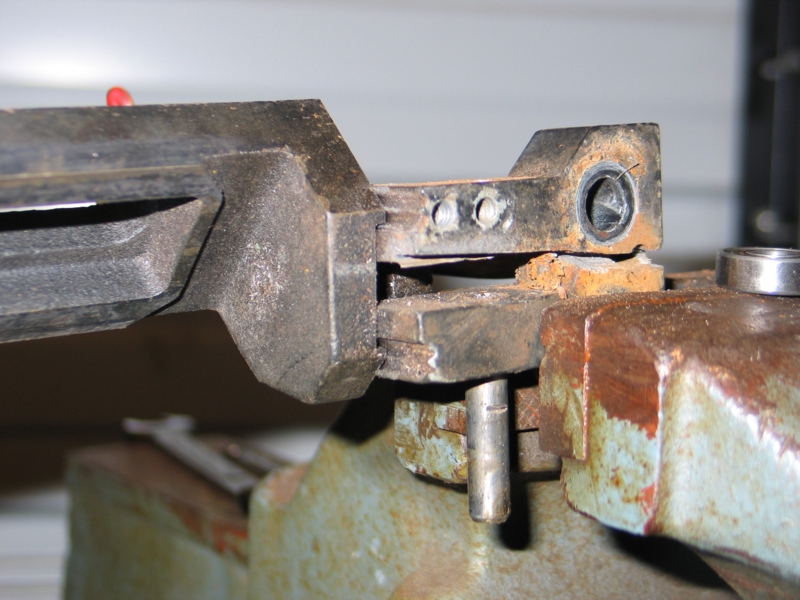 All bearings removed, The pin is withdrawn awaiting the new back bearing...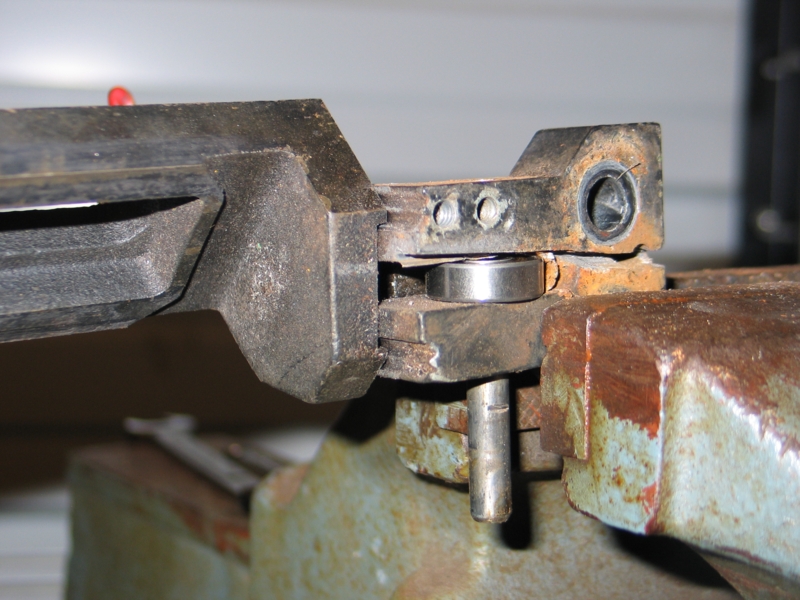 ...and inserted ready for pressing in the vise jaws. After pressing, the pin was tapped back a little to free (center) the bearing.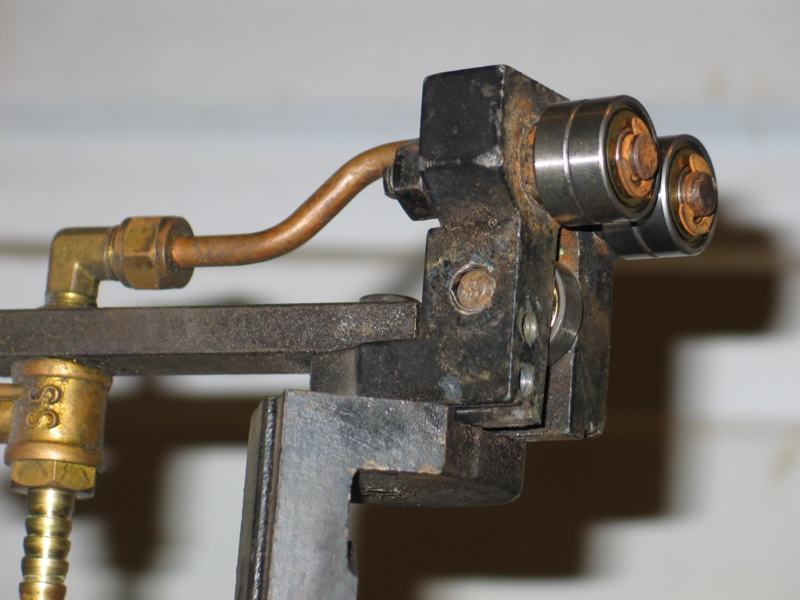 Ready to go back on the saw.
I am waiting for a new blade and some Kool Mist 77 from Enco. Maybe tomorrow...