Portable Machine Shop
---
---
June 14, 2004
I had to move recently, and the new place didn't have a shop. I built a shed on an old car hauler trailer I had. I enlarged the floor to 17' X 8 1/2'. It is 8' from the floor to the ceiling and another 18" or so to the peak. The peak is 10 1/2' off the ground. I also had to add a third axle to carry the weight.
I took some pictures of my new shop for a friend, so I thought I'd show everyone. You can click the photo for a larger version.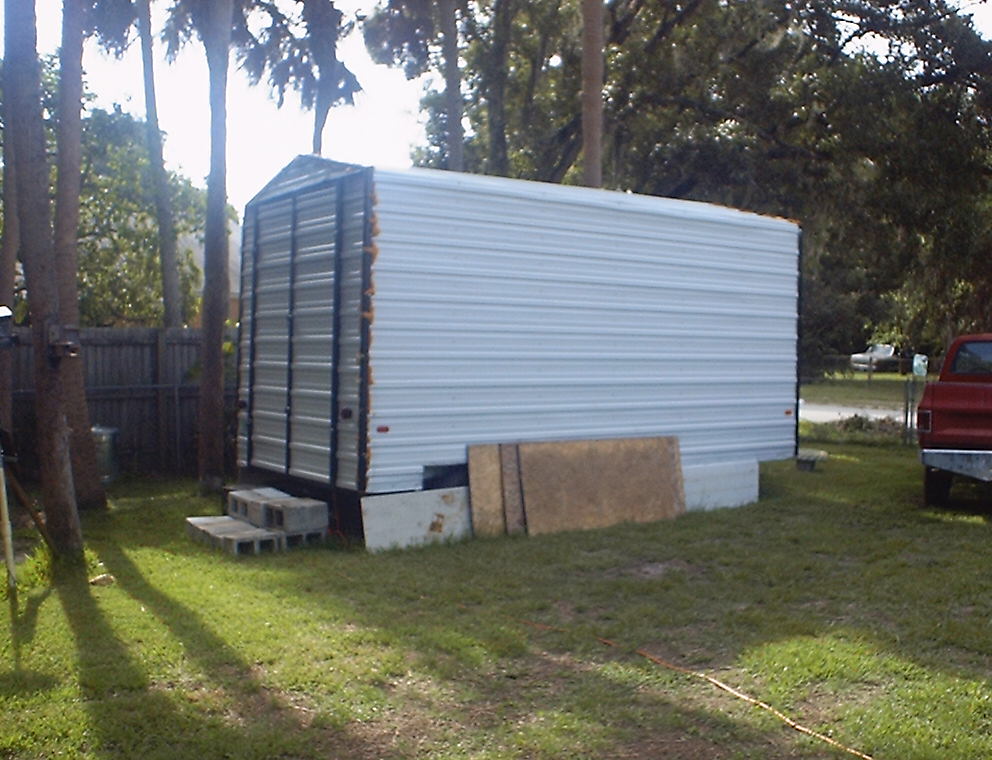 I must have held the camera crooked for this shot (above). I looks like the back wall is deformed, but it isn't. The brownish stuff on the corners is Great Stuff foam sealant.
I was using a large ammo can for a step, but when it turned over and dumped me on my face my wife stacked blocks for steps. The wood was the sideboards on the pick-upon my trip from Mississippi to Titusville, Florida. It is destined for use as shelves and another workbench.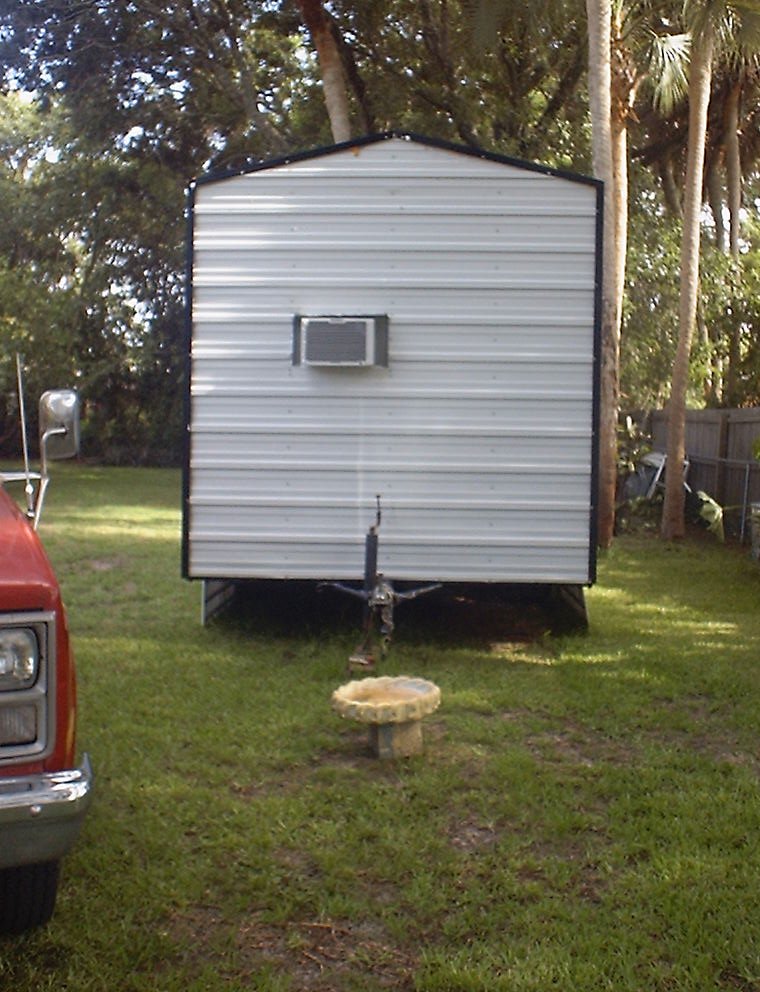 This shows the small 5000 BTU A/C. It barely keeps up because I haven't insulated, yet. When the sun hits the steel siding, forget it. I need to add trim around that ugly hole for the A/C.
I have yet to block it up, but it's pretty stable sitting on the wheels and the tongue jack.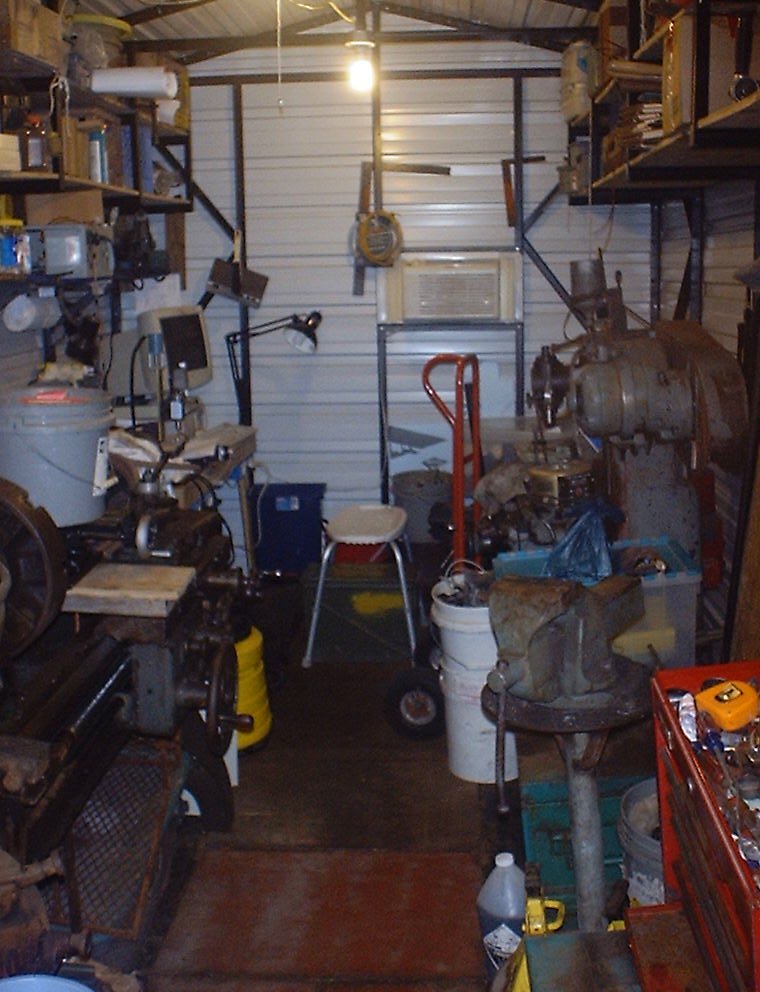 I was standing just inside the door for this one. The Nichols H/V milling machine is on the right and you can just make out the back of the 14" 4 jaw chuck of my Monarch lathe on the left. The furnace and K-bond molding sand is shoved up under the lathe until I find a better place to keep it. The flasks and riddle are on the shelves above.
Looking toward the doors. There are three overhead lights. They are cheap incandescent fixtures with florescent bulbs from Wal-Mart. Two 100w equivalent bulbs for $8.44, not too bad. Cheaper than most other options. I bought some more florescent bulbs from the flea market for $2 each and they aren't worth a darn.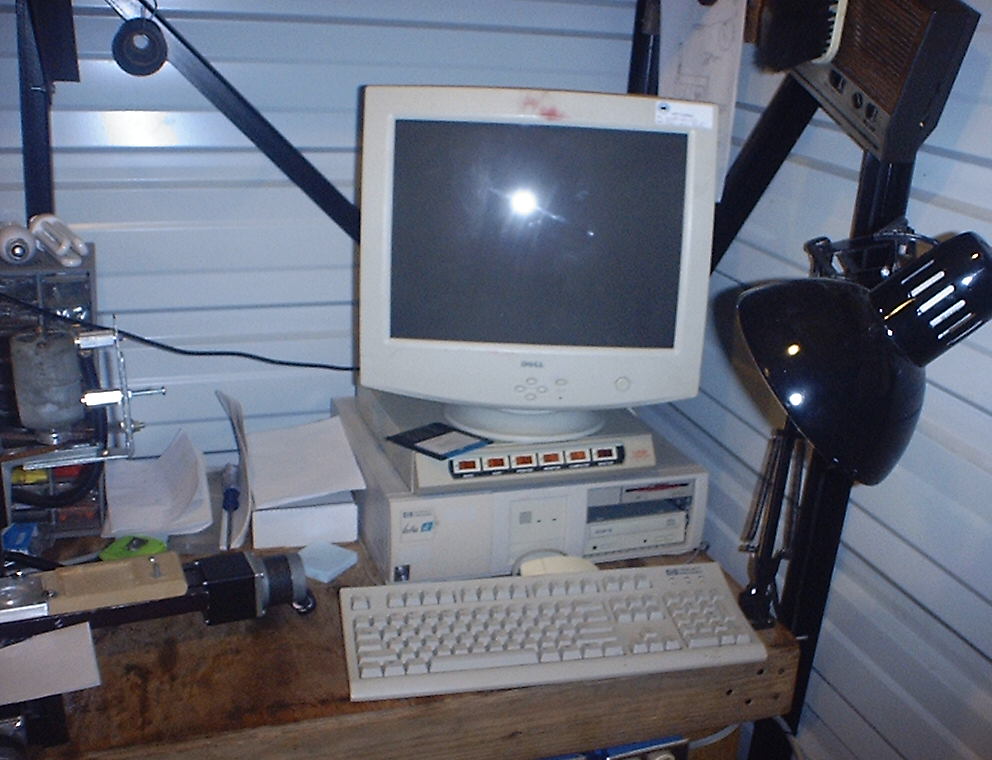 This is a computer my friend gave me, a 200 MHZ Pentium. It now has an eighty gig HD. It is running TurboCNC just fine. It may get a wireless networking card, soon. I am about to install a wireless router on the cable modem so my wife and I can both be online at the same time. Just a little more will put this one online, too.
This swing arm lamp has another of the bulbs like overhead. Very bright!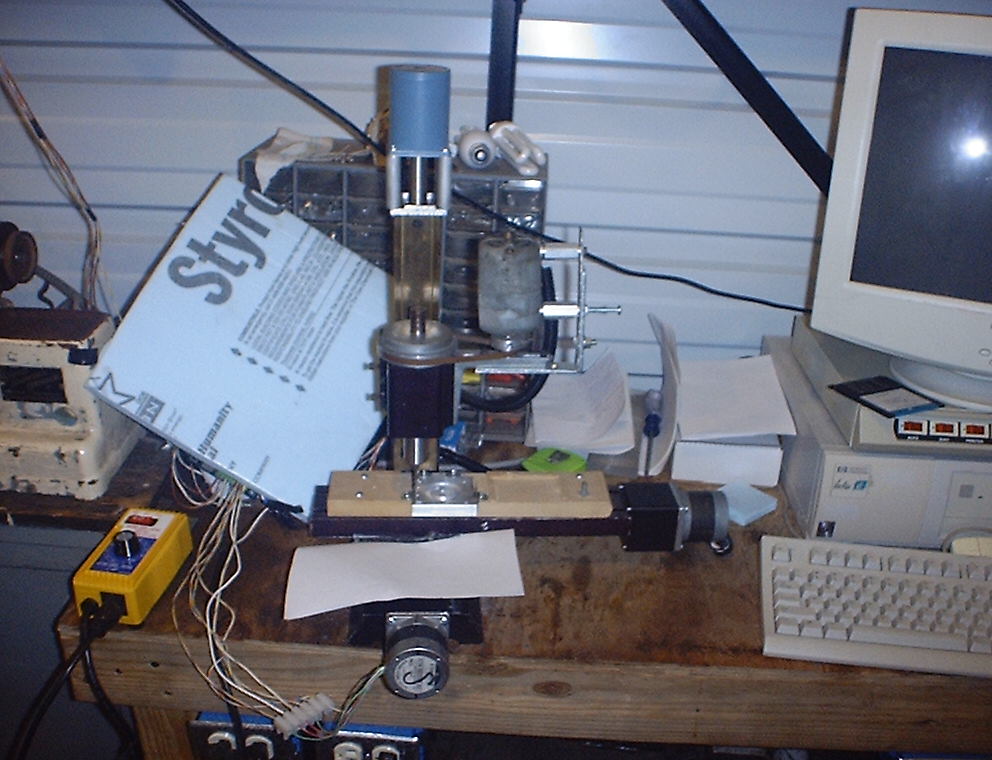 I dug out my Sherline mill the other day and got it going. I lost the config file and had to set the motors up from scratch. They are running pretty slow as is. I will probably upgrade them soon. I still have some of those blue 100 oz in ones like on the z axis. I have yet to try my new Xylotex board. I have some 116 oz in Pac Sci steppers that may find their way on there.
The part on the table is cast aluminum held in an MDF "tooling plate." To get the cast aluminum, I cut a piece of 1/2" thick foam about 2 1/2" wide and poured it using the lost foam method. It makes good mill stock. this part started out as just a refresher on G-code, but it may wind up being a stepper motor mount for my Taig lathe. My plan is to mill MDF for patterns to use in the foundry.
If you look close you can see a couple of boo boos. I was driving it in MDI (Manual Data Input). The driver is hiding behind the blue foam. I need to make a box before I catch a chip in it.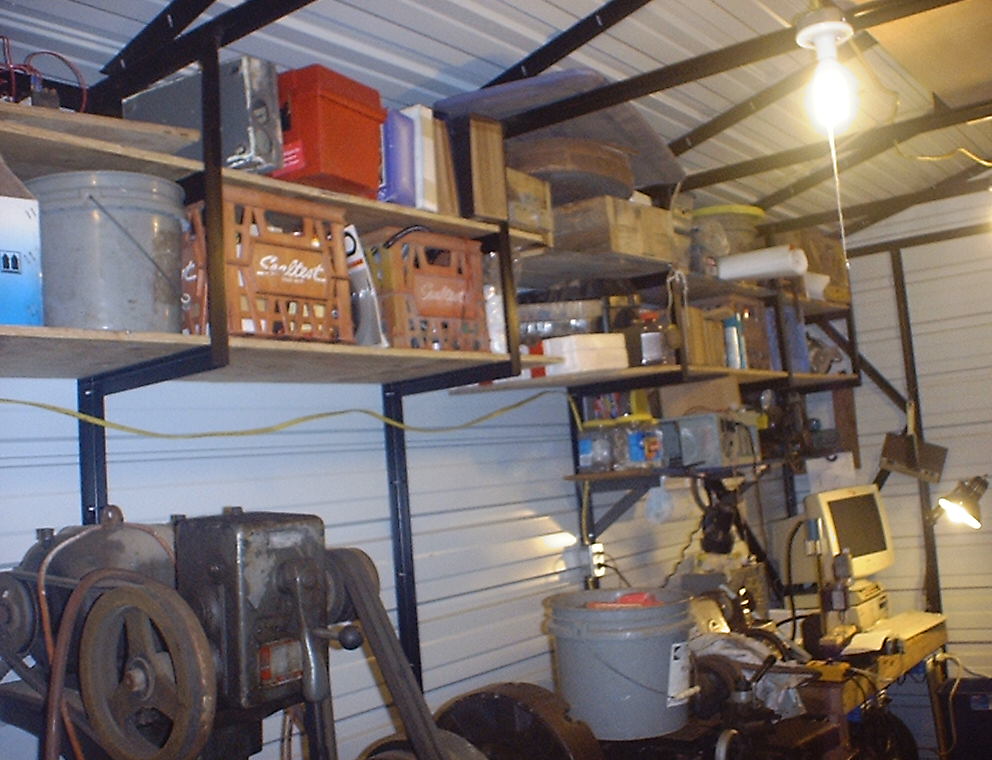 Here you can see I started on a third shelf above the bench. I still need to attach the shelf boards above to each other. You can see one sagging where the ends aren't fastened to each other, yet.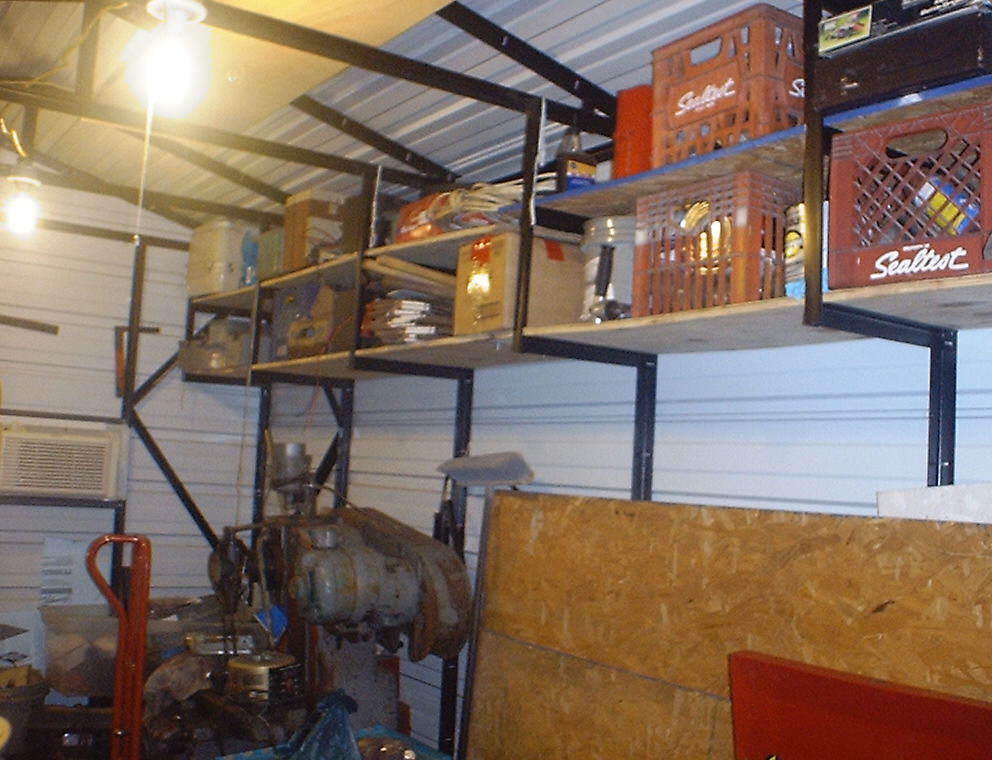 I thought I was making too many shelves, but they are all full. I could use some more! The bottom of the shelves is six feet off the floor, so there is room for more.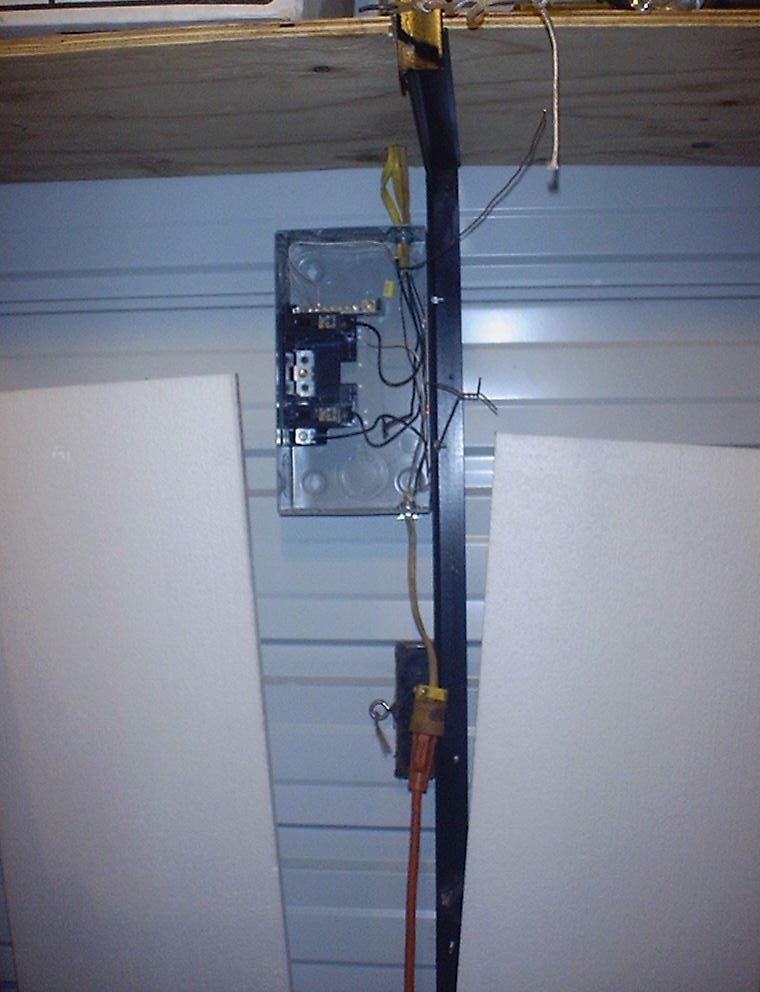 Lowe's had a small breaker panel for only $13.95! I have two single 20 amp breakers and room for a double fifty when I get heavier wire run out to it. Right now it is on a heavy 120V extension cord.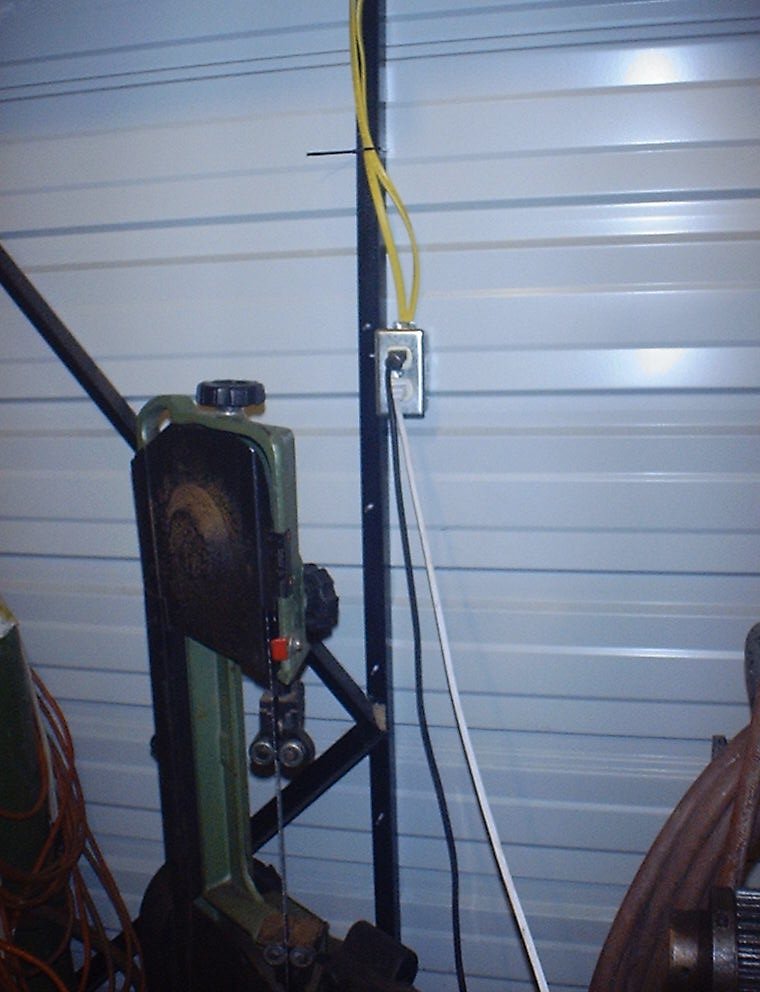 I used 1/4" bolts through the side of the steel receptacle boxes at either end of the lathe to hold them to the angle iron studs. Speaking of the studs, they are 1½ X 1½ X 1/8" angle iron.
My Gorton tool grinder. The Taig lathe is in the cabinet below the grinder.
I used nail up boxes under this small bench. You can never have too many receptacles. That is a 6HP compressor hiding under the bench. More than I need these days, but I needed it when I used to paint cars.
When the other side is wired I will have a dozen duplex receptacles. Unless I find the need for more! The lights and receptacles are on different breakers, so plugging something in and blowing a breaker won't leave me in the dark.
I still have a lot of sorting and organizing to do. I can't find half my stuff after the move!<GRIN>
---