Created 05-23-2002
About Us
That sure sounds pretentious! Actually "Us" is just me, Ron Thompson.
Ex-trucker, unemployed machine shop student, 'webmaster', link fixer, and all
around great guy! Just ask me. <GRIN>

Update: That was in 2002. Now (2008 after Hurricane Katrina took our home,
my wife and I live in Titusville, Florida. I work in the engineering department
of a small metal fabricating company in Longwood, about 45 miles away.
---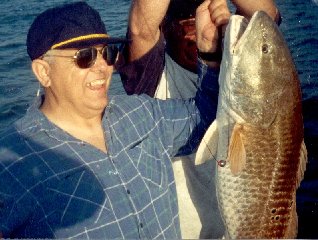 It's a 40" BULL REDFISH, about 30 pounds
Caught near Horn Island, about 10 miles south of my home in Ocean Springs, Mississippi, USA
---
I have been a reader of (and sometimes poster to) Rec.Crafts.Metalworking for several years. It is amazing the wealth of knowledge there. Then I started reading other groups like hobbicast on Yahoo groups. In early 2002 someone asked about a set of plans for a sandblast cabinet and I had 'em. I put together a CD with that and a lot more stuff (CD1 Sandblast Cabinet Plans and More!), and offered it at a good price to my newsgroup buddies. I had no idea how many "newsgroup buddies" I had! The response was overwhelming. I started searching for more of this kind of stuff and developed quite a collection. Between that and my magazine collection, I am blessed.
So I got this idea to start an online "library" of this stuff. Unfortunately, you can't legally post magazine articles and such. How does the library do it? They provide free access to their materials and charge for services, like copying. So I figure I can, too.
A lot of this information is falling by the wayside. Old printed material like magazines are succumbing to age and deterioration, and more hit the garbage can every day. If someone doesn't archive this material, this knowledge will be lost forever. Like so much that has gone before it.
People want to save endangered species, well, I'd like to save endangered information. At least the stuff that interests me, like plans and projects.
---