CD1 Sandblast Cabinet Plans and More!
This is the one that started it all. Originally put together for the members of some news groups.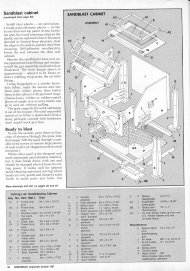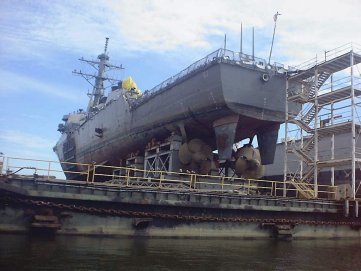 This CD is full of interesting stuff! Articles from old magazines, Pictures of interesting stuff (like the 15 original pictures
of the USS COLE I took while she was in dry dock), plans for building all kinds of things for your shop, and lots more.
---
A partial list follows:
Besides the article on building the sandblast cabinet (with complete measured drawings!) there is:
A 9 page article on building a 20 ton hydraulic press
A complete army training manual titled Fundamentals of Machine Tools
Five original photos of my rural mailbox called a BatBuster
CAD drawings of a hossfield type bender.
An article on building a Cinva Ram. This is a press for making bricks from mostly dirt and a little cement.
15 original photos I took of the USS Cole in the repair drydock at Ingalls Shipbuilding in Pascagoula, MS (The Cole is now proudly back in the water)
11 original photos I took of a semi truck that burned to the ground, literally! It is a good example of the heat produced by diesel fuel and air, the aluminum parts melted and puddled on the ground!
An article on building a tracking solar collector that produces STEAM! A sidebar to this is plans for a small sheet metal bending brake.
The Magnolia Metal Bearing Book, among other topics is how to pour Babbitt bearings and Babbitt hammers
Plans for a receiver hitch adapter to help you carry long items in a pick-up bed
An August 1953 article from The Model Engineer on building a horizontal surface grinding and milling machine
A July 1954 Popular Mechanics article "Milling arm for Drill Press"
An article on building a truck mounted hoist (cherry picker)
An old article on making a shop made air/diesel fuel torch that can melt cast iron. It starts out "For safety, economy, ease of construction, and intense heat the air-diesel torch has much to recommend it. The one illustrated uses about 1 gal. Of diesel or stove oil an hour, and the air supply may be almost anything that will supply a pressure of from 40 to 300 lb per square inch through a 1/16" hole. The torch carries no fuel under pressure, has no insurance restrictions, cannot explode, starts without generating, and if the heat is confined, will melt cast iron."
An article from the internet called "Making Insulating Castable Refractory from Common Material"
Plus, a few other odds and ends just for grins.
---
Now you can download it!
For just $9.95US