I have no relationship with the seller or manufacturer other than as a customer.
There was a discussion on
Mach3 start Yahoo newsgroup
on September 3rd, 2011 (message 441) about a really inexpensive pendant for Mach3.
---
jackch3 wrote:
>>Hi has anyone ordered and tried out the manual remote controller G1, as sold on
Ebay item 330591760033. I ask because I did order one, received it very
fast.There was no paper work as far as operating. When I plug it in it lights up
and the emergency button works on Mach3 but that is all.I just wondered if
anyone else had tried this item. Thanks Jack
---
In the conversations that ensued, it seems there is a simple setup that is required. I was interested enough to order one for $39.00, delivered from Hong Kong, and I sure am glad I did! Ordered September 3rd, delivered September 24th, not too bad from Hong Kong to Florida, USA.
This is the top image from the sellers auction.
After I got it, I noticed the odd cord. It's a telephone handset cord. Should be easy and cheap to replace, if needed. And if you have a large router, maybe you can get a longer cord to drag it around. If you do, let me know how it worked out for you.
You can click the photos below for a larger view:
This is the pendant as delivered. The wrinkles on the face are from the protective plastic. I decided to leave it on as long as it will stay to help protect the artwork.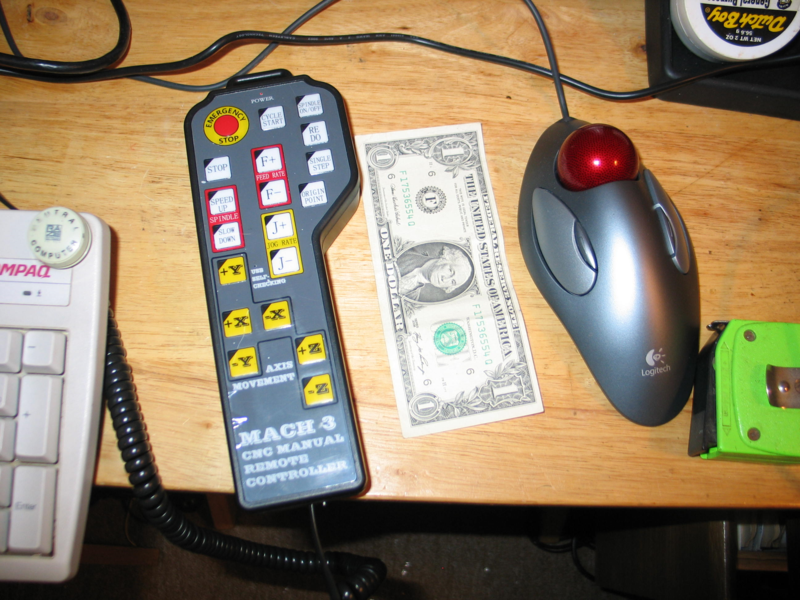 This may give you a better idea of size.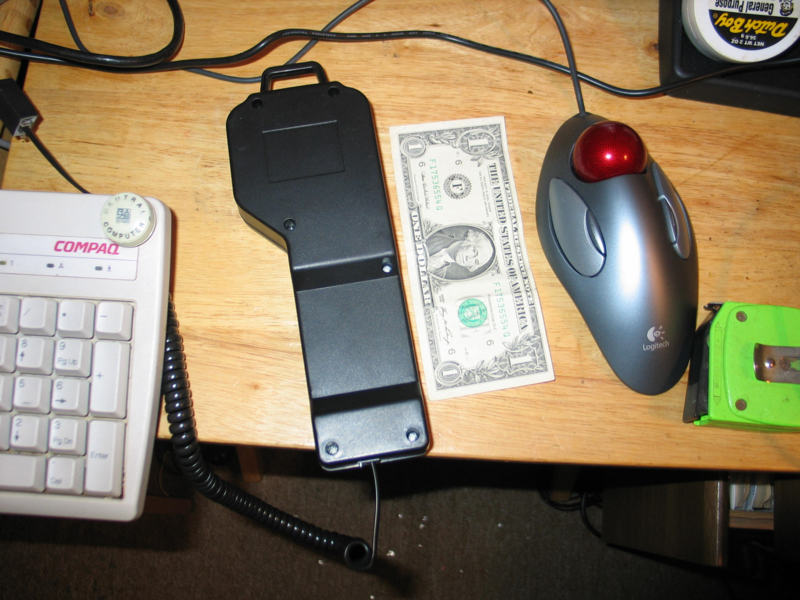 The back has an indentation. I have no idea why. It's held on with small phillips head screws.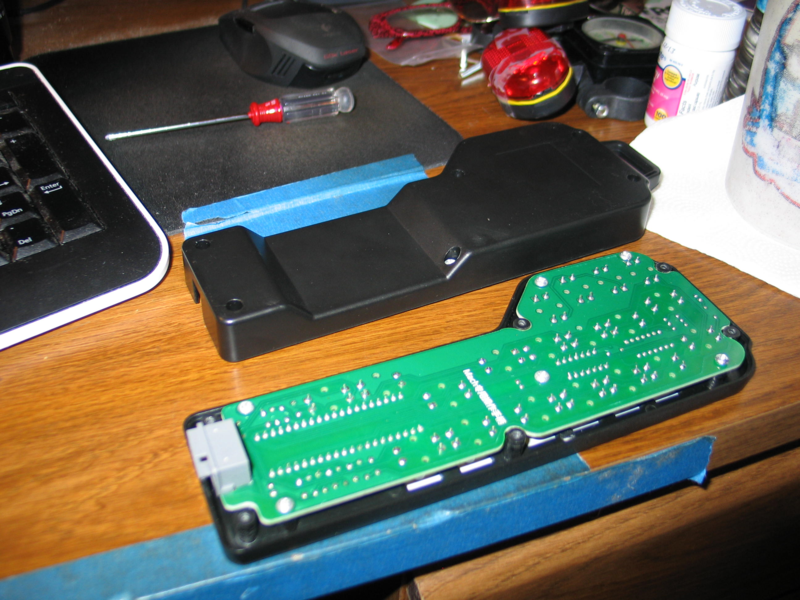 The cover removes easily. No clips or gaskets. You may want to be careful with this around coolant. Maybe put it in a Ziplock bag when you run coolant.
They went to the trouble of sanding off the part numbers of the chips. The whole thing is comprised of a large chip and two smaller chips, plus some large Tact switches. I was surprised to see it is made with all through hole components. I expected everything to be surface mount.
My impression, it's a straight up keyboard emulator. You could probably duplicate the functionality with an Arduino. But where would you get the spiffy case? (And Arduinos are 30 bucks.)
The red LED at the top is a power indicator and is lit whenever power is applied through the USB plug. The hole is undersized and just a pinpoint of red shows through on mine. Yours may be different.
The yellow LED in the center is labeled "use self checking" on the face of the pendant. Maybe someone more familiar with Mach3 knows what that's for, I don't.
The plastic case reminds me of model cars from my younger days. The button holes are just covered by the thin plastic label. I thought they were membrane switches. I am glad to see they are more robust than that.
The case fit is good, but not waterproof. An occasional splash probably won't kill it, but I'd wipe it off right away.
The seller claims setup is easy, and most funtions will work out of the box. I found this to be true on Mach3 Mill. I originally tried it on Mach3 turn I have set up for my Spectralight lathe and it didn't work. I'll have to track down what's different.
Hotkey setup instructions from the sellers auction.
Anyway, on Mach3-Mill, everything worked except the axis jogs. and they just needed the hotkeys set up. No sweat. Now they work fine.
I have it plugged into
my Mini-itx computer
that lives on the back of the LCD monitor.
I especially like the feed rate override and spindle speed change buttons.
The "origin point" button seems to be go to zero.
"Redo" I have yet to figure out.
While it's possible the buttons could be repurposed, I doubt it would be easy. I suspect the large chip is a microcontroller and the buttons are programmed in firmware.
Could it be better? Sure.
Could it be better and still cost $39 delivered? I doubt it!
Would I buy it again? You bet.
Please leave a comment on the bottom of the page. Was this useful? What would you like to see different? Thanks.